For centuries, the province has undergone thousands of changes in terms of nature and society, yet the ancient historical relics, the natural painting of miraculous caves, grotto covered with karts, shiny stalactites, & stalagmites, and beautiful rivers still remain pristine and captivating!
Briefings
Located as far as 100 kilometers south of Hanoi is Ninh Binh province, the south extreme of the Red River delta. Inside the province is the grandiose Tam Diep Mountain, connecting the North and the South.
The province stretches from the Northwest mountainous area to the delta, thus being calleda half mountain half plain area. In particular, Ninh Binh contains 3 main kinds of topography: Limestone Mountains with fascinating caves & grottos, the delta rose by Red River Silt, and a coastline with the length of 18 kilometers, enlarging the province area by 100m2 per year.
Besides limestone caves and grottos, Ninh Binh is also popular for the first imperial capital of Vietnam, from 968 to 1010 under Dinh, Le and Ly dynasties, which has resulted in its cultural tourism potential.
AlsoTam Coc - Bich Dong and Cuc Phuong national Park within the province are desirable destinations for tourists. Would you like to visit Ninh Binh? Please be willing to join the following trip:
Places to Visit
1. Hoa Lu Ancient Capital
Hoa Lu Ancient Capital is the tourist destination which will bring you to a few imperial capitals of the country in the ancient and medieval eras. Visiting Hoa Lu, you will not only have a fun and exciting time, but can learn more about culture and history as well.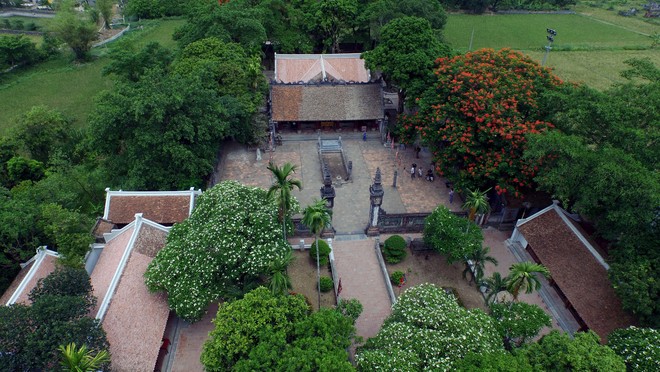 Hoa Lu is some 110km or two hours from Hanoi. Located near the town of Ninh Binh, Hoa Lu is the site of a 10th-century capital of an ancient Vietnamese Kingdom called Dai Co Viet. This small Kingdom covered an area of only 300 hectares, and reigned from the 10th century, during the Dinh and Le dynasties, to the 11th century, during the Ly Dynasty. The Kingdom was enclosed by a citadel. The citadel and the Yen Ngua limestone hills provided good defence for this kingdom against the Chinese.
The mountains and sea combined to make Hoa Lu's picturesque landscape. Hoa Lu lays in a flat valley surrounded by the Trang An lime stone mountains, which form a natural wall protecting the old citadel. The city's northwest is bordered by the Hoang Long River, the tributaries of which run through the capital, cooling the weather within the city and serving as convenient waterways.
Not much of this ancient kingdom is left standing. Whatever that remains of the palaces and shrines would only be of interest to archaeologists. The Royal Court was built in an area of 150 hectares in the eastern part of the capital while the western part served as a site to educate and protect children. The surrounding to be quite picturesque, with its ponds and limestone range forming a jagged horizon. There are two 17th century temples, modelled after their 11th-century originals that are on most itineraries to Hoa Lu. They are the Dinh Tien Hoang Temple and Le Hoan Temple, dedicated to the founder of the Dinh Dynasty and to its successor, reachable after a climb of more then 200 steps. I shall describe these two temples separately on their respective pages.
As the capital of the country for 41 years, Hoa Lu has many palaces, pagodas, tombs and pavilions that were built by different dynasties. One of the most popular pieces of architecture is the Bao Thien Tue Palace, which was plated with gold and silver. However many vestiges have been destroyed due to time and weather.
In 968, Dinh Bo Linh ascended to the throne and took the name of King Dinh Tien Hoang and reunified the country under the name of Dai Co Viet. Hoa Lu was its capital for 41 years (968-1009). The first 12 years were the Dinh Dynasty while the rest were the Le Dynasty with King Le Dai Hanh. In 1010, King Ly Thai To moved the capital to Thang Long (Hanoi now)
Coming to Hoa Lu visitors can attend traditional cultural festivals here, and the most important and largest of them is the Truong Yen Festival, which is held on the 10th day of the third lunar month. The festival is in memory of the Kings of the Dinh and Le dynasties. The festival lasts for three days with many traditional games and martial arts, reflecting local residents' legends.
Hoa Lu Ancient Capital Festival
The festival is held annually on the 10th -13th of March of the lunar calendar in Truong Yen commune, Hoa Lu district with the purpose of commemorating the two kings Dinh Tien Hoang and Le Dai Hanh.
The festival includes two parts: Worshiping is water procession at Truong Yen water station located on Hoang Long River and worship at the two temples of King Dinh and King Le. Entertainment activities include performing "Co lau tap tran", competing in writing Han script, playing chess, performing dragon dance, etc.
How to get to Hoa Lu?
You can easily get a day tour from Hanoi to visit Hoa Lu from most travel agents in Hanoi. Such a tour usually includes a boat ride at Tam Coc as well. The tour begins in the morning and ends at the early part of the afternoon. Hoa Lu is about 110km from Hanoi, and takes 2 hours to reach.
Hoa Lu Ancient Capital is really an important cultural and historical site of great value in Vietnam.
2. The Immense Pride Of Ninh Binh's Inhabitants
With royal ruins, Limestone Mountains, caves and Crystal Rivers, Ninh Binh Province has nearly everything a visitor could want. And Trang An Grottoes Eco-tourism Complex is a potential destination...
Covering an area of 1,961 hectares, Trang An Eco-tourism Complex belongs to the mass of Attraction Relic of Hoa Lu Ancient Capital and includes three main functional subdivisions: center area for welcoming visitors and festival organization; tourist area of Grottoes with 48 grottoes and caves together 31 large and small valleys; and hallowed cultural area of Bai Dinh Pagoda. The whole complex has 47 historical relics and nearly 100 grottoes stretching around 20km South to North.
Slotted for upcoming development, the Trang An Grottoes Eco-tourism Complex consists of limestone mountain ranges, valleys and rivers which blend harmoniously together in a wash of green. All these factors make a fanciful and romantic atmostphere. Located 4km southwest of the Hoa Lu old capital in Truong Yen Commune, the destination is made more alluring by the route there. Tourists can begin their visit at King Dinh Tien Hoang and King Le Dai Hanh temples before boarding a row boat down the Sao Khe River to Xuyen Thuy grotto, past rice fields and villages.
Gorgeous grottoes...
Upon reaching the complex, you will encounter a system of unique grottoes, some of the more noteworthy being Ba Giot (Three Drops), Dia Linh (Holy Land) and May (Cloud). But for those with different interests, there are numerous historical relics related to architecture, economics, social and military history from the Dinh, Le and Ly dynasties. There are many valleys like Tran Temple valley, May valley, Khong Valley, Nau Ruou Valley (Wine brewing valley).
In archealogical excavations, people discovered valuable relics like bows, dishes, pots, bricks, tiles and ancient money. Moreover, Trang An Grottoes Area also has old architectural constructions like Vuc Vong temple, Khong residence. The Beauty of New Long trans-water grottoes will surprise tourists. Trang An Grottoes Area is considered as a great rock – garden locating in a vast lake. It is said that, this is the place where Dinh Bo Linh trained his navy soldiers. All the scenes seem to be mingled with which create a particular and interesting space awaking a wide range of mythical imagination.
Trang An is the key tourism zone of Ninh Binh which is still under construction and investment in infrastructure. When the project is completed and opened by the year 2010, Trang An will become a national and international tourism complex of Vietnam with all tourism types such as historical tour, cultural tour, eco tour, festival tour, religious tour, grottoe discovery tour, adventure tour (rock climbing, trekking), entertainment tour, vacation, MICE tour, kayak, historical - cultural research and so on.
A boat trip along the winding, olive river lined with trees and rare orchids helps to understand the immense pride of the area's inhabitants. Green trees, a crystal clear river, fresh air, magical caves and sweeping mountains rich with history... all will charm you at first glance. Come here, and you would never wish to leave...
3. Bai Dinh- The biggest Pagoda In ASEAN
Bai Dinh Pagoda is famous for its great size and imposingness. The pagoda will be also set more record for the owner of the most Arhat Statues in ASEAN with 500 Arhat statues made of stone and stand higher than human's head.
Located behind a range of limestone mountains in Gia Sinh Commune, Gia Vien District, Ninh Binh Province, the site with construction lying about in disorder and in the way, so it is difficult to imagine its beauty as well as its solemn to a pagoda in the true sense of the word as the tradition. However, its great size and imposingness can be felt by anybody when visiting it one time. Its back leans against the Bai Dinh Mountain with the height of 200m.
The area for constructing Ba Dinh Pagoda is 80ha, which is located on the mass of "Bai Dinh Pagoda hallowed culture" belonging to Trang An Tourism Area. Currently, this mass is executing many items of Pagoda including Tam The (Past, Present and Future) Temple, Sanctuary and Bodhisatva Kwan Yin statue, Dharma Temple, Bell-tower, Three-door temple gate, and dormitory area for Buddhist monks, etc.
In front of Pagoda valley, a hundred of excavators, bulldozers and power-shovels are digging land and build up a dike to make a huge semicircular lake, which will be taken water from the river crossing to create a landscape of "on shore and under boat" like the Yen Stream flowing under the foot of Huong Tich Pagoda.
The most important emphasizing point of these great religion works are still Tam The Temple and Dharma Temple. The area of two Temples up to 1.000m2 (area of the main sanctuary of traditional pagodas is maximum about 150m2 because it is limited by compartments - stipulated by the length of wood beam). The height of Dharma Temple is up to 22m, it contains four achieving record statues inside.
Four statues - three bronze Tam The statues and one Great Buddha Sakyamuni statue - are the pride of "Owners" of Bai Dinh pagoda. Each statue of Tam The weighs 50 tons, 12m high, Great Buddha Sakyamuni statue with 16m high and weighs 100 tons, which are casted by the pure bronze bought from Russian, casted and installed by the famous Artisans of casting bronze statue in Y Yen, Nam Dinh. A "great bell" with the weight of 60 tons was casted and located on the top of hill on the way come to the main sanctuary. The Great Bell is so big that it is estimated if wanting to sound the bell, it will need a big log of wood and four pullers the log of wood to prod into the bell.
The astonishing one is the "collection" of 500 Arhat statues on the hill in the right of Dharma Temple. The 500 Arhat statues with the height of 2.3m, carved by Ninh Binh stone. According to the supervisor
for executing at the site, Mr. Nguyen Xuan Truong - investor and his collaborator came to China to learn and take the sample drawings of 500 Arhat's legend and brought to home country for the painters, carvers to make the sample statue of gypsum, after that the craftsmen carved the statues again by monolithic green stone. People in Gia Vien District joked that: only carving enough these 500 Arhat statues, the villagers in Ninh Van's stone craft village, Hoa Lu (neighbor district) have got enough jobs security during the past two years.
Though the construction of Bai Dinh Pagoda has not yet finished, the reputation of this new Pagoda was far-resounding. The visitors received some information from the backstage "whisper in each other's ears", have come to burn incense before the bronze statues of Buddha which are still being covered by scaffolds. While far from the large site 2km, if sharp-sighted the passers will see a humble three-door temple gate loacated next the roadside.
Through the three-door temple gate, turn to the small path rather slope, go up to the top of mountain we will see the Bai Dinh Pagoda (old), full of green moss and quiet. There is virtually none knowing to a "Great Buddhist Pagoda" will be going to set the record of Asean being executed at the site over there.
Ecologically and historically rich, the Bai Dinh Pagoda Mountain was recognised as a cultural and historical heritage site in 1997. Bai Dinh Pagoda will become the largest religious tourist centre in Viet Nam upon completion in 2010 to celebrate the 1,000th anniversary of Thang Long – Hanoi.
As a great historical relic, Bai Dinh Pagoda cherishes both: enchanting scenery and deep history. Let's give you a chance to enjoy the beauty...
4. Tam Coc-Bich Dong-"South Second Nicest Grotto"
Tam Coc - Bich Dong is also called "A terrestrial Ha Long Bay", or the "Vietnam's second nicest grotto" (to Huong Tich) for its poetic and inspirational natural scenery
Briefings
Located in the Ngu Nhac Son Mountains, Hoa Lu District, Ninh Binh Province, it is a grandiose complex of Bich Dong pagoda and Tam Coc grotto which is one among the 21 crucial tourism destinations of Vietnam.
The zone is featured with a tropical climate, with 2 seasons. The cold and rainy season lasts from May to October, and the dry and hot season from Novermber to April. Its annual average temperature is 23.5oC. As situated at the base side of the Red River Delta Triangle, it is a half-mountain half-plain area, with a coastline of 18 kilometers.
King Le Canh Hung ever said: "This is Vietnam's second nicest grotto, after the Huong Tich Grotto in Ha Tay province". Its pristine natural beauty together with a simple but nice countryside landscape, and a sacred spiritual life have converged into a fascinating and attractive Tam Coc-Bich Dong to numerous tourists.
These days, more and more people in the world have been coming here in various types of tours: ecological tours, culture, history, and festival tours. No one could deny that Tam Coc-Bich Dong has become a legend of rivers and mountains, a green, pure, and safe destination for every traveler.
Historical name
Bich Dong is a beautiful pagoda on the nearby Ngu Nhac Mountain dated to 1428 under the Le Dynasty, comprising three structures: Ha, Trung, and Thuong Pagodas, in ascending order. In 1773, Mr. Nguyen Nghiem (the father of the great writer Nguyen Du) visited this cave. He was much impressed by the whole magnificent scenery of mountains, waterways, fields, and sky covered in green mist. Thus he gave it a very beautiful and romantic name, Bich Dong, which literally means "Green Pearl Grotto". This picturesque landscape is added by Tam Coc portion. It derives its name from its consisting of 3 caves (Hang Ca, Hang Hai, and Hang Ba); "Tam" means 3, "Coc" means cave. Tam Coc or "Three Caves" portion is of great enchanting charm and mystery, inviting tourists to come and explore!
Join a round trip!
Tam Coc Wharf - starting point of journeys
To begin the journey, tourists have to queue at Tam Coc Wharf to take a boat to travel along rivers. The pier is crowded with tourists from morning till afternoon. People coming here share the same pleasant feeling about such a nice picture with the classical communal house, ancient banian tree, mossgrown well, marble rock, and friendly locals.
Tam Coc - a mysterious grotto
Visiting Tam Coc Grotto, tourists may feel like they had just disappeared from the real world to get lost in such a hidden fairy site, which is located approximately 2km from the pagoda. Tam Coc is 3 kilometers from Van Lam Wharf. Now just take a boat from Van Lam Wharf to reach the Tam Coc Grotto, which consists of the Hang Ca, Hang Hai and Hang Ba caves. This might take you three hours on your small boat along the Ngo Dong River, beginning at the village of Van Lam and proceeding through a scenic landscape dominated by rice fields and karst towers.
The largest of the grotto is 125m long with its ceiling about 2m high above the water. This grotto is adorned with beautiful stalactites and stalagmites of different shapes and colours that sparkle like gemstones. Now when drifting along the gentle Ngo Dong River under the Grotto, you can feel the deeply pure atmosphere with special smell of fresh rivers water and cool air from karst mountains when reaching each of the 3 caves in turns.
Among the three caves, Hang Ca is considered the most picturesque one since it is the longest and contains most fascinating natural arts deep inside. It is around 127m long, with a cave mouth of 20m wide. When leaving Hang Ca, just turn back to see it once again, you will feel that it were like a very old white - haired man sitting down for fishing.
A Vietnamese legendary tells that this was a Heaven Land where that fishing man - a considered fairy one - lived, and flying above within the Heaven was a flock of fairies in graceful white dresses! You may be so much seduced by the beautiful fairy landscape that you do not even think of coming back at that time!
Hang Hai is nearly 1 kilometer far from Hang Ca. This is the second stop-over on your waterway journey, where can be found a series of colorful sparkling stalactites falling from the cave ceiling. This cave is about 60m long. The last but not least cave is Hang Ba, just nearby, is about 50m long, with lower ceiling than the above two, looking like a plutonic cupola.
Now getting out the whole grotto, looking out the vast landscape, you can see that a mighty mountainous and waterways are covering the limitless land. If moving further 4 kilometers, there comes "Fairy Stream", a pure mirror-like stream where you can even see through to the stream-bed to contemplate flocks of fish swimming and looming in the moss layers. It is said in a fairy tale that fairies used to land on here to swim, thus it was named "Fairy Stream".
Bich Dong Grotto
Now turning in the opposite position, you will soon reach Bich Dong pagoda, which is situated at the grandiose Ngu Nhac Mountain. The Pagoda is divided into three levels: Ha Pagoda (lower pagoda), Trung Pagoda (middle pagoda), and Thuong Pagoda (upper pagoda). On the mountain peak stands the statue of a scholar Mandarin looking at the horizon with the hope of viewing the spectacular landscapes of Hoa Lu. Visiting Bich Dong grotto, tourists have a great chance to turn back to the Post Le Dynasty's legends.
From the upper pagoda, one has the most magnificent view of Bich Dong, which is romantically charming in terms of architecture and history. The location for this pagoda was chosen in 1428 after two monks were charmed by the view of the river and the mountains. Later, King Le Canh Hung wrote a poem in honour of the beautiful pagoda and landscape.
Bich Dong means "Green Grotto" or "Pearl Grotto", which reveals its magnificient natural beauties. Colors, shapes, and sounds of the shining stalactites converges in such a captivating miracle that no one could refuse to touch, knock and contemplate them in deed. Honorably, amongst the most fascinating caves in Vietnam, "Fairy Grotto", part of Bich Dong, is regarded as an "Elysium on Earth".

"Surrounding mountains full of water during 4 seasons,
Rattan boat lightly drifting,
covered with mist and clouds, is Pagoda landscape"
Are beautiful lines of verse offered to Bich Dong pagoda grotto, a rare natural work of Art.
"Sun Valley" - attractive ecological tourism
Here comes the final destination in your meaningful waterway journey – "Sun Valley" (Thung Nắng), an ideal ecological tourism spot for lovers of nature. Inside the valley, there is an ancient limestone temple with rock-style architecture shown in delicate carvings. Visiting this valley, you can relax in your small boat, with sun-bathing and sun playing in a quiet and pure atmosphere.
"Marvellous landscape, considerate service!", said Ms Mery Luit, a German tourist, "if possible, I will soon come back to Tam Coc-Bich Dong".
Tourist activities
♦ Taking a boat journey to: Tam Coc (from Van Lam Wharf on Ngo Dong River), Crossing Thuy Dong (through Ngu Nhac Sown Mountain range), Thach Bich-Thung Nang, Thung Nham-Vuon Chim, Linh Coc-Hai Nham, etc.
♦ Walking and mountain climbing: Bich Dong Mount and Pagoda, Tien Grotto, Thien Huong Grotto, Co Vien Lau ancient houses
5. Cuc Phuong National Park
Established in 1962, Cuc Phuong is the oldest and largest national park in Vietnam.
Where is it? Situated 120 South-West of Hanoi, with a 22,200 - ha rainforest, Cuc Phuong National Park is the centerpiece of Vietnam's conservation efforts and one of the most accessible parks in the country.
A magnificiant limestone landscape: Located on 2 limestone mountain ranges, the landscape of Cuc Phuong is a wonderfully rich ecosystem. Apart from verdant karst mountain and the lush valleys, the limestone formations produced numerous caves, many of which are accessible for exploration.
Looking at "Nguoi Xua" Cave (Cave of the Early Man), you will see the two new discovered ancient tombs along with Neolithic remains and evidence of stone implements. You would have similar findings at the following caves: Trang Khuyet (Crescent Moon), Thanh Minh and Con Mong, and Hang Dan (well known for Bat).
Does such a natural landscape have a cultural value? The answer is YES. In earlier times, Cuc Phuong was home to the Muong minority people and today, you can still see their traditional stilt houses. The rocky outcrops of Cuc Phuong contain very valuable archeological vestiges such as a fossilized sea reptile, dated at 200 - 230 million years old and evidence of prehistoric people, who lived in the forest some 7500 years ago.
As the oldest national park of Vietnam, Cuc Phuong is attached to a long-lasting history.In 1960, Cuc Phuong was turned into a forest reserve, and then granted a "National Park" 2 years later by President Ho Chi Minh for reminding his people of the environment's core role in their life. Yet there had already been some relationship between mankind and Cuc Phuong before this event. The remains of prehistoric men dating 7,000-12,000 years ago have been found in the numerous caves in the park.
Diversified Flora-Fauna: Cuc Phuong is also popular for being home to a huge diversity of flora and fauna. The botanical richness of the forest is impressive since it supports a wide variety of flora species and patches of primeval forest, including ancient trees with thick clusters of roots, parasitic plants and ligneous creepers.
Surprisingly, some plant species have been introduced from Burma, India, and Borneo. Stepping to the caves, you can find at entrances the ideal moisture conditions and light, you will feel relaxed when seeing clusters of growing orchards as well as vanilla, snow-white and butterfly orchids.
As regards fauna, the park has 97 species of mammals, 300 species of birds, 36 reptilian species, 17 species of amphibians, 11 species of fish and thousands of species of insects, most of which do not bite. A number of species in the park are listed on Vietnam Red Book of endangered species.
Visiting the park, no one could help keeping an eye on the primates; including macaques, gibbon, Francois' leaf monkey and slow loris. Besides, this park is the home for other mammals including bats, porcupine, squirrel, leopard, clouded leopard and jungle cat in Cuc Phuong. Migrant species include thrushes, flycatchers, tits, finches, pipits amongst others. Hornbills can also be spotted in the forest.
Entertainment activities: Should you are keen on cultural aspects, do not hesitate to join in the community-based eco-tourism and home-stays. Why don't you take a trek to the Muong village where the hospitable local people offer you 1 or 2 nights' home-stay in their traditional stilt houses? This does bring you an opportunity to explore their culture and try out bamboo river rafting!
You can also discover excellent hiking opportunities, and spend some days trekking though the forest. Popular trails to 1000 year old tree, other ancient trees, silver cloudy peak and Muong village. Tourists may join night-spotting trips into the primary forest. These offer opportunities to see the more exclusive mammal species of the park, including the black giant squirrel, the Indian flying squirrel, samba deer and several small carnivores.
Do not forget to bring with you the binoculars because Cuc Phuong is home to a wealth of beautiful tropical birds, many of which are endemic in Vietnam and Indochina. Some of the 307 species of rare birds that you might encounter are the silver-pheasant, red-collared woodpecker, brown hornbill, bar-bellied pita, and so forth.
For further interests, we suggest you take a tour to biodiversity hotspots. At the moment Cuc Phuong has a total of 43 biodiversity hotspots. All of these are recognized by the scientific department of the national park and they offer you and excellent opportunity to study and see many different species of tropical plants.
One of the fantastic ways to experience Cuc Phuong is by cycling through the forest. Biking offers the visitor not only silence and a cool breeze, but it is also a great way to discover the more secretive animals and birds of the national park.