Ha Giang Overview
Hà Giang is a province of northeastern Vietnam. It is located in the far north of the country, and contains Vietnam's northernmost point. It shares a 270 km long border with Yunnan province of southern China. Hence it is known as the final frontier of Vietnam. The provincial capital is also called Hà Giang, which is connected by Highway 2 and is 320 km away from Hanoi. The border crossing is at Than Thui, 25 km from the Ha Giang town. It is one of the poorest provinces of Vietnam as it has highly rugged but scenic mountainous topography with least potential for agriculture development.
The province borders China with a length of over 270 kilometres (170 mi); the border gate is known as the Thanh Thuy. In addition there are three smaller gates namely, the Pho Bang, the Xin Man and the Sam Pun.
Hà Giang is bounded by Cao Bang, Tuyen Quang, Lao Cai, and Yen Bai provinces and has common international border with China in the north. Hà Giang has many high rocky mountains (lime stone formations) and springs; the important mountains are the Cam and Mo Neo. The major rivers of the region are the Lo River (Ha Giang town is located on its left bank) and Mien River.
Hà Giang is a highly mountainous region, and travel around the province can be difficult. Much of the province is too mountainous for agriculture, leaving much of the land covered by forests. Hà Giang's central plateau is good for growing plums,peaches, and persimmons, which the province exports.
Hà Giang is one of the poorest provinces of Vietnam. Traditionally, the vast majority of its economic activity revolved around agriculture and forestry. However, in recent years, there have been attempts to establish a manufacturing industry. Infrastructure in Hà Giang has seen improvement, but remains poor - roads, schools, and health services are less developed than in many other parts of Vietnam.
Ha Giang Province also has large areas of green tea, apart from terraced rice fields. Particular tea plantations of quality tea are the Shan Tuyet strain in the Lung Phin in Dong Van District and Nam La in Yen Minh District. Ha Giang tea is not only popular in domestic market but also in foreign markets.
The province is rich minerals; 149 mines with 28 categories of minerals are spread in all districts of the province. Mineral deposits explored in the provinc are: Antimony, ironore, manganese, ferrite, zinc, tin, copper, bauxite, gold, gemstones, kaolin and mineral water.
As Hà Giang is a mountainous region, the population is not large, and the majority of inhabitants are ethnic Vietnamese. The remainder are Thổ, Hmong, Tay, Dao, Mán,Nung, Giấy and Lô Lô. The majority engages in ancestor and spirit worship.
Quản Bạ Valley
Quản Bạ Valley, located at 45 kilometres (28 mi) from Ha Biang, at 7,945.8 metres (26,069 ft) elevation, is called the "Heaven's Gate" and has a TV Transmitter on a summit. Uniformly shaped hills of the valley are viewed from this summit. Quan Ba Pass provides alluring views of the voluptuously named Thach Nu Doi but also known as "Two Stone Breasts" in the valley below. The valley has forested hills and meadows, with temperatures ranging between 10 oC (50 oF) in winter and 24 oC (75 oF) in summer. It is well known for its secret grottoes and caves, colourful orchids, plum and peach trees, persimmon orchards, medicinal plants and many more. The town of Dong Van is famous for its Pho Bang Street which features multistoried buildings built with clay bricks and tiled roofs. The weekly market is where the Tay and H'Mong ethnic groups of the province visit in large numbers to trade in various types of goods and colourful hand woven cloth.
Phuong Thien Cave
Phương Thiện Cave is 7 km to the south of the township of Ha Giang. It is the location of many sights, especially natural caves and grottos of Doi, Lang Lo and Phuong Thien. The surrounding area is also known for its plums, pears, oranges, apples and Tuyet Son tea above 900 metres (3,000 ft). Chui Cave lies 7 km to the south of Ha Giang. It is set about 100 metres (330 ft) into the face of the hill. Tiên Cave và Tiên Spring: The cave is 2 kilometres (1.2 mi) from Ha Giang town. Động có Suối Tiên rất đẹp. According to folklore, heavenly female beings came there to bathe in the lunar new year, thus its name. The local population uses it as a water source and to pray for good luck in the new year.
Dong Van
Dong Van is a market town 16 kilometres (9.9 mi) from Sa Phin and 3 kilometres (1.9 mi) from Chinese border is inhabited by Tay People and also Hmong. It is an altitude of 1,025 kilometres (637 mi) and experiences freezing temperature of 0 oC (32 oF) in winter and 24 oC (75 oF) in summer months. The highland region is famous for fruits such as Hau plums, peaches and persimmons without seeds. It also has many medicinal plants (ginseng, cinnamon and anise).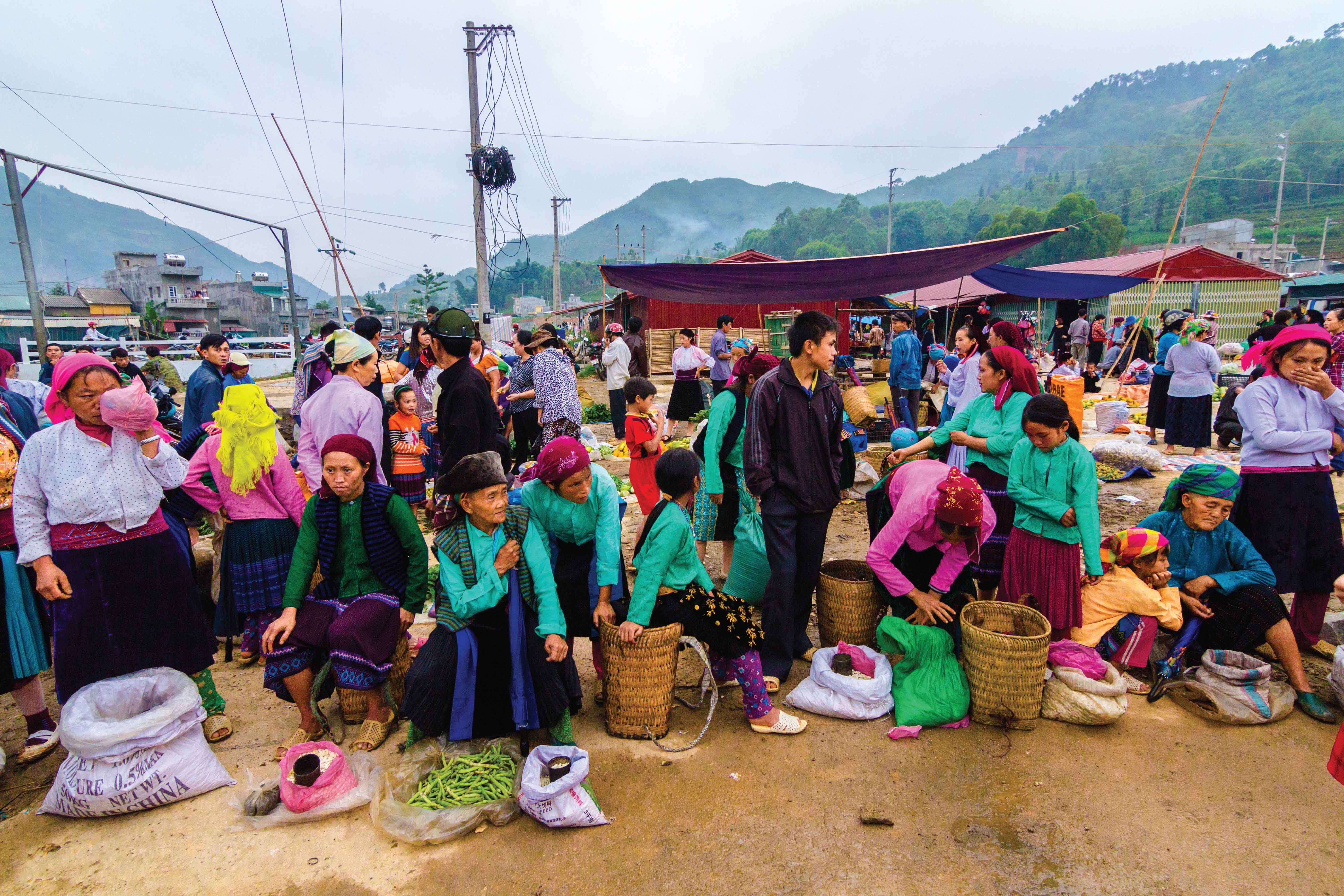 Mèo Vạc
Meo Vac is a mountain pass at about 1,500 metres (4,900 ft) elevation which forms the basin boundary of the Nho Que River on the border with China is restricted zone. The market held at Khau Vai which is about 20 kilometres (12 mi) from Meo Vac, is where once a year on the 27th day of the third month of the Lunar calendar is known famously as the Khau Vai "Love Market." The ethnic clans of White Hmong, Tay and Lolo congregate here, particularly the young people assemble here in search of life partners or to exchange partners. The Lolo people who dominate the local village by the same name in particular come here in their colourful regale. This ancient custom is now reported has become a "circus" with gate crashers landing in very large numbers.
Khâu Vai Love Market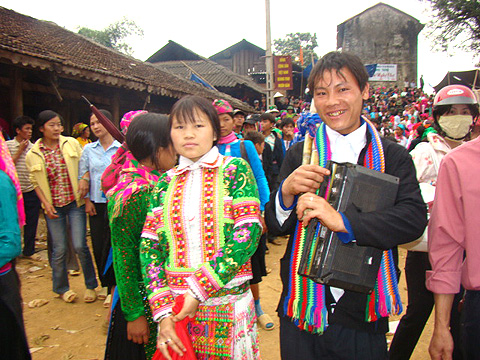 The Chợ tình Khâu Vai market only meets once a year, on the 27th day of the third lunar month at Khâu Vai commune in Mèo Vạc district, based on an old folk tale. A long time ago, there was a young beautiful couple who were in love but they were in different districts, which would have meant that she would have moved to her husband's area. Her home district opposed this, while the boy's district wanted this, causing political tension.

When the couple was meeting, the two groups descended into warfare. To avoid bloodshed for their societies, the couple decided to break up and only secretly meet once a year on the anniversary, at Khâu Vai. Since then the area has become a dating spot for couples. In the last 10 years, economic pressures have led to a market being set up to capitalize on the anniversary celebrations.
Ha Giang museum
Ha Giang museum located in the centre of the Ha Biang town, not only has an array of display of findings from archaeological excavations but also houses historical artefacts, bronze drum collection and also costumes of the local ethnic clans. Museum building is in form of a big lotus opening up its petals, in red and white colour mansion.
Ha Giang market
Ha Giang market is an important market centre in Ha Biang town on the east bank of the Lo River. At this place, Tay, Nung, Red Dao and White Hamong ethnic groups congregate every Sunday.
Lang Si
Lang Si is a village at the Lang Si pass where the White Hmong tribes assemble at the market held once every six days. The village is 116 kilometres (72 mi) from Ha Biang and parts of the border wall built by the French army are seen here delimiting the border of White Hmong Kingdom. It is honey producing area and has many apiaries.
Sa Phin
Sa Phin is a small town in the remote Sa Phin valley (2 kilometres (1.2 mi) from Chinese border) where Hmong Kings ruled. The unique feature of the place is of the large double storied houses which are built in Chinese style made out of yellow bricks with Chinese style roof. The twin white towered palace building is distinct among the 20 odd buildings.
The Vuong family mansion
The Vương family mansion is an architectural heritage landmark in Sà Phìn commune, Đồng Văn district that was listed by the government in 1993. At the start of the 20th century, Vương Chính Đức, a member of the Mong people, was appointed the Bang Tá and he had the family residence expanded into a mansion from where he worked. It is a of a style that is rare in this mountainous region of northern Vietnam. The building was designed in the style of the later period of the Qing Dynasty of China, and is grouped into three sections, the front, middle and rear. It comprises six lengthwise and four sideways buildings, two levels, and 64 rooms and 1,120 metres (3,670 ft) of land space. The building is surrounded by a stone wall, of width between 0.6 kilometres (0.37 mi) and 0.9 metres (3.0 ft) and of height from 2.5–3 kilometres (1.6–1.9 mi). The mansion is 145 kilometres (90 mi) to the northwest of the town of Hà Giang and 24 kilometres (15 mi) to the southwest of the district of Đồng Văn.