For a very long time, handicraft products have been a source of cultural pride and a source of income for the people. As the varieties of handicraft products are too numerous to be fully introduced, only a few typical items and their sources are mentioned here.
Woven tapestries and brocade handbags are unique works from the skilled hands of the ethnic women living in the Northwest regions, such as Cao Bang, Lao Cai.
Embroidered articles and silk products are famous from the regions of Van Phuc (Ha Tay), Nam Ha, Thai Binh, Hue, Dalat (Lam Dong).
Wool tapestries from Hanoi and Haiphong, and jute tapestries from Hung Yen,Haiphong, Hanoi and Thai Binh, are much sought after.
Ceramic and porcelain items have been produced in Vietnam for a long time. Ceramic and porcelain products glazed by traditional methods into beautiful art are well known in Bat Trang (Hanoi), Dong Trieu, Thanh Ha (Quang Ninh), and Haiphong. Copperware is fabricated by the skillful hands of coppersmiths in Ngu Xa (Hanoi), Dai Bai (Bac Ninh), Dong Son (Thanh Hoa).
Jewelry products and metalwork are concentrated in Hanoi, Thai Binh and Hung Yen, while stonework are mainly produced in Danang (Five Element Mountain Region).
​Wood products and wood carvings can usually be found in Phu Xuyen (Ha Tay), Dong Ky (Bac Ninh), Haiphong, and Hue.
There are thousands of types of handicraft products. Some of these handicrafts have been internationally recognized and popularized, such as lacquerware. While lacquer artists produce a limited number of paintings and sculptures, lacquer crafts have been part of Vietnamese life in many forms: vases, boxes, interior decorating items, jewelry, and office products.
With about 2,000 years of history, Vietnamese products made by a community of handicraft artists, have established a firm and growing position in the domestic and international markets.
Handicrafts
In Vietnam, there are traditional handicrafts: ceramic, bamboo products, lacquerware, mother-of-pearl inlaying...
Ceramic:
​There are many villages throughout the country that produce ceramics. Some of these villages include Phu Lang in BacNinh Province, Huong Canh in Vinh Phuc Province, Lo Chum in Thanh Hoa Province, Thanh Ha in Hoi An (QuangNam Province), and Bien Hoa in Dong Nai Province.
Bat Trang Ceramic Village (Hanoi) is very old. According to historical documents, products from this village were well known as far back as the 15th century.
Vietnamese ceramic is now well known in both the domestic and international markets. Traditional products include kitchen items and trays. The flower-patterned bowls of Bat Trang have been exported to Sweden, the cucumber pots to Russia, and the teapots to France.
Bamboo products:
​Bamboo and rattan (tre, may, and song) are abundant sources of material used by Vietnamese handicraftsmen. The advantages of these products are that they are light, durable, and termite resistant.
Bamboo and rattan products from Vietnam first appeared on the world market at a Paris fair in 1931. Since then, more than 200 items made from these materials are sold overseas. Among the most popular are baskets, flower pots, lampshades, and bookshelves.
Lacquerware: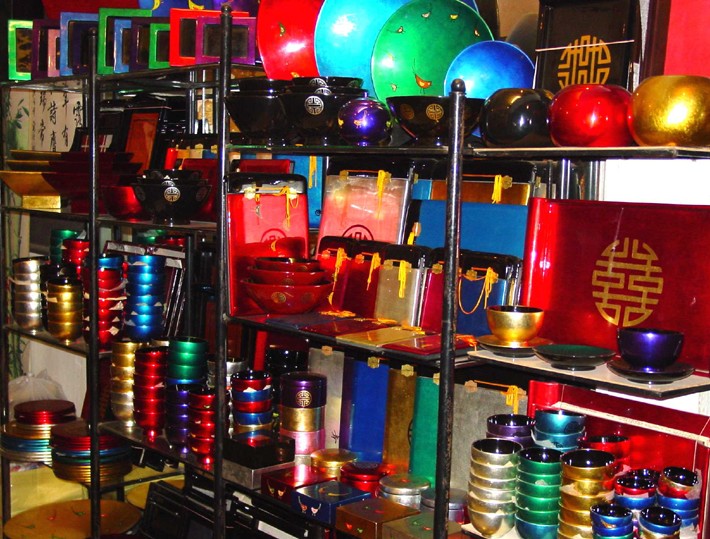 ​Lacquerware is really typical to Vietnam, although it also exists in other Asian countries. It is said that the resin extracted from the trees in Phu Tho Province is the best one. As such, the lacquerware products made in Vietnam are very beautiful and durable.
As early as the 18th century, people in Nam Ngu District in Thang Long (Hanoi) specialised in making lacquerware products. In its early stages of development, lacquerware contained only four colours: black, red, yellow, and brown. However, due to improvements in technologies in later years, additional pigment colours were made, therein, creating a wider range of lacquer colours.
Currently, Vietnamese made lacquerware products are essential in both the domestic and foreign markets. The renowned products include wall paintings, flower vases, jewellery boxes, trays, chessboards, and folding screens.
Mother - Of - Pear Inlaying:
Craftsmen performing inlaying use different types of oyster shells and pearls, which offer a wide array of colours. This art form requires a lot of effort as the process of inlaying involves numerous stages, including designing, grinding, cutting, carving, chiselling, and polishing.
Inlaying is widely used in the furniture industry to make tables, desks, chairs, picture frames, and trays that portray various ancient tales. These tales are displayed as scenes of nature, such as birds, butterflies, lotus ponds, and banana trees.
The process of inlaying furniture has increased the value of wooden articles. According to legend, this handicraft originated in the Chuon Village in Ha Tay Province.
Ston Sculpture
Most of the traditional sculptures are made in Danang Province, more specifically nearNgu Hanh Son Mountain located between Quan Khai and Hoa Khe villages.
Sculptors use marble to carve various articles of high value, including bracelets, ash-trays, Buddha statues, ornamental flowers, leaves and trees, and animal statues, such as cats and peacocks.
Embroidery:
In the past, embroidery was mainly reserved for the benefit of the upper class, temples, and pagodas. The technique of this art form was rather simple, and it involved only five colours of thread: yellow, red, green, violet, and blue.
Presently, embroidered goods serve both useful and decorative purposes. New technologies have helped to produce new materials, such as white cloth, lampshades, and lace. As a result, the embroidery industry has developed and there is now a wide range of new products including pillowcases, bed sheets, and kimonos. The most skilled type of embroidery is the production of portraits, which requires using up to 60 different colours of thread.
It is believed that embroidery originated in Quat Dong Village in Ha Tay Province.
Jewellery:
As soon as the 2nd century, the Vietnamese were using gold and silver to create jewellery. There are three different techniques used to make gold and silver jewellery, including intricate carving, casting, which is the process of melting metal and pouring it into flower, lead, or bird shaped moulds, and common processing, which is a process of polishing metal.
These three techniques can be combined to make intricate pieces of jewellery. Because of the flexibility of the raw materials, the colour of gold, and the brightness of silver, beautiful necklaces, bracelets, earrings, rings, trays, and cups are created.
It is said that gold work originated in Dinh Cong Village near Hanoi and that silver work originated in Dong Xam Village in Thai Binh Province.
Wood Work:
​Since the 1980s, the production of fine wooden articles has experienced a strong revival. These works of art have been much sought after in both domestic and foreign markets. The most popular of these products are wooden statutes and sets of wooden chairs, cabinets, and beds.
Currently, there are many companies dealing in the production and sale of wooden items. Their skilled employees have produced many beautiful and highly appreciated products.
Copper casting:


Copper casting is one of the most famous and enduring traditional art forms of Vietnam. With the help of technology, several ancient copper items from all over the country have been preserved. Approximately 3,000 years ago, ancient Vietnamese discovered how to cast copper to make brass tools, weapons, and ornaments; therein, initiating the metal age. Some brass statues that have been preserved serve as proof of the blooming period of copper casting in Vietnam. In later years, pursuing their forefathers' talents, handicraftsmen created many innovative brass products that suited the needs of society.
Some of the most famous copper pieces known today include a series of brass drums that were cast over centuries. As well, there are brass artefacts currently exhibited inHue, such as a bronze kettle at the Imperial Palace (1659-1684), the bronze plaque of Thien Mu Pagoda (1677), the bell of Thien Mu Pagoda (1710), the Nine Cannons (1803-1804), and the Nine Dynastic Urns (1835-1837).
Today, only a few copper casting villages remain, such as Ngu Xa in Hanoi, the casting quarter near Hue, and Phuoc Kieu in Quang Nam.