Special food in the North
Nem ran (Sping roll)
Nem ran (called cha gio in the south) is a much-appreciated speciality, although it is very easy to prepare. Since long ago, nem ran has been a familiar dish on the menu at all households during the New Year's festivities, at family parties, and at receptions.
The stuffing of the nem ran is comprised of mince pork, sea crabs, eggs, minced Jew's ears, thin-top mushroom, dried onions, bean-sprouts, pepper, spiced salt, etc. The mixture is then rolled in flat rice cakes and fried in a pan until crispy.
Nem are eaten hot with a sauce that it is, at the same time, somewhat salty, sweet, acidic and scented (with the flavours of onion and pepper). Papaya and a few fresh scented vegetables are added.
Gio lua (Silky lean meat paste)
By itself, the name "silky lean meat paste" evokes thoughts of the silky aspect of this speciality. Gio lua is made with lean pig meat, which is pounded with a pestle until it becomes a sticky paste. Fresh banana leaves are tied very tightly around the paste, and then it is well cooked. Goodgio lua has a fine white colour, is firm, and has a perfumed and sweetish taste.
Gio lua may be obtained anywhere in Vietnam, but the best gio lua is from Uoc Le Village (Hanoi), where the know-how for Gio lua is strictly kept so as to allow no secrets of the job to flow out from Uoc Le. Slices of Gio lua are slightly pink, moist, and sweet-smelling meat, fish sauce and banana leaf.
Pho (Rice noodle soup)
Pho, a typical dish of Hanoi people, has been existing for a long-time.
Pho is prepared not only in a sophisticated manner but also in the technique which is required to have sweet but pure bouillon, soft but not crashed noodle, soft and sweet-smelling meat.
Only in cold days, having a hot and sweet-smelling bowl ofPho to enjoy, would make you experience the complete flavor of the special dish ofHanoi.
Bun thang ("Ladder" soft noodle soup)
Dishes made of soft noodle soup are diverse such as vermicelli and fried chopped meat, Bun Thang, vermicelli and sour crab soup, stewed vermicelli and boiled lean meat, etc. The popular dish is vermicelli and sour crab soup whilst Bun Thang is for con-noisseurs, unique and available in Hanoi only. A bowl of Bun Thang includes lean pork paste, thin fried egg, salted shredded shrimp, chicken, onion, shrimps paste, and a little Belostomatid essence. Especially, Bun Thangbouillon made from shrimps and meat must be very sweet and pure. Without enjoyingBun Thang when arriving to Hanoi, it somewhat seems to lack of a part of taste ofHanoi.
Mon Oc (Snail dish)
Snail dish is a popular but unique dish of Hanoi people. It is easy to order some dishes like snail steamed with ginger leaf, gingered snail, snail sauted with carambola, snail boiled with lemon leaf, snail steamed with Chinese herbs, and so on, in many small restaurants, restaurants, and even hotels.
However, vermicelli and snail sour soup is the most attractive to young ladies because of brittleness by snails, the slightly sour taste by snail soup, and hot by chilly boiled down, making even gorged people keep eating.
Com (Grilled green rice)
Every autumn, around September and October, when the cool north-westerly wind brings a cold dew, the sticky rice ears bend themselves into arches waiting for ripe grains because these rice grains are at their fullest and the rice-milk is already concentrated in the grains, predicting that the com season has arrived.
Better than any other person, the peasant knows when the rice ears are ripe enough to be reaped to begin making com. Com is made from green sticky rice that is harvested in blossom period, roasted in many times, crashed and sieved.
Com is a speciality; at the same time, it is very popular. One can enjoy com with tieuripe banana. When eating com, you must eat slowly and chew very deliberately in order to appreciate all the scents, tastes, and plasticity of the young rice.
Com is an ingredient also used in many specialities of Vietnam, including com xao(browned com), banh com (com cakes), che com (sweetened com soups), etc.
Com may be obtained anywhere in the North of Vietnam, but the tastiest com is processed in Vong Village, 5km from Hanoi, where com making has been a professional skill for many generations.
Cha ca La Vong (La Vong grilled fish pies)
Cha ca La Vong is a unique specialty of Hanoi people, therefore one street in Hanoi was named as Cha Ca Street.
Cha ca is made from mud-fish, snake-headed fish, but the best one is Hemibagrus (Ca lang). Fish bone is left away to keep fish meat only, then seasoning, clipping by pieces of bamboo, and frying by coal heat. An oven of coal heat is needed when serving to keep Cha ca always hot. Cha cais served with roasted peanuts, dry pancakes, soft noodle soup, spice vegetables and shrimps paste with lemon and chilly.
The Cha ca La Vong Restaurant on No.14 Cha Ca Street is the "ancestor restaurant" of the dish.
Banh cuon (Roll rice pancake)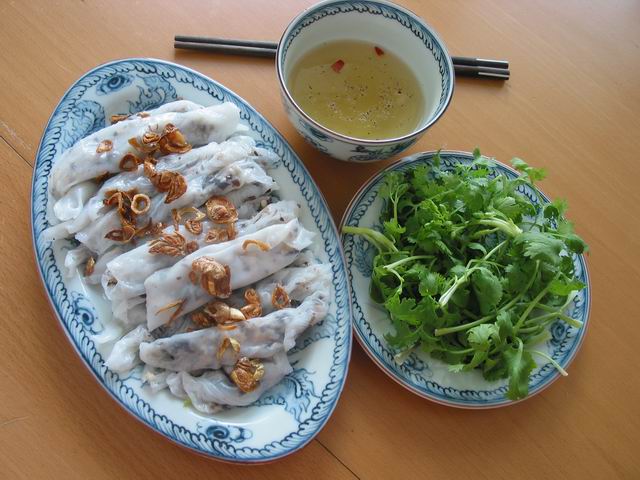 Banh cuon is popular to Vietnamese as disk for breakfast. The cake preparing process includes grilled rice which is steamed and oil-spread to have sweet-smelling. Banh cuonis prepared available. Leaves of cake put on plate as the customers ask for the disk. The cake is called Banh cuonThanh Tri due to its origin is Thanh Tri Village of South Hanoi. Besides Banh cuon Thanh Tri, there is rolled rice pancake with the filling of the cake is made from minced pork mixed with Jew's ears and thin-top mushrooms. The cake, placed on plate, serve with salted shredded shring and fried dry onions. The customers immediately experience the disk as it is just finished and stilI very hot.
It is the sauce of the cake that fascinates the customers. The cake-makers have their own know-how, some of them prepare Banh cuon with Belostomatid essence to have sweet -smelling to attract to the customers.
Lon quay Lang Son (Lang Son roasted pork)
Anyone who arrives in Lang Son Province could find it difficult to say no to Lon quaydish. Lon quay Lang Son is delicious for many reasons, however, the main specific taste of the dish comes from the unique flavor of a kind of leaf called "Mac mat" (meaning "sweet leaf"). The leaf is soaked with spices, fish sauce, glutamate, flavoring powder, then stuffed into clean pig belly and placed on reverted furnace. Pig is fried the spread with watery honey so as to make the skin turn golden and brittle, and pork is soft and sweet-smelling as finish.
Banh tom Ho Tay (Ho Tay fried shirmp cake)
All people who used to live in Hanoi are familiar with Banh tom Ho Tay Restaurant on the Thanh Nien (Young) Street. The cake preparing process includes wheat flour mixed with potato fibres, placing on shape with shrimps upper, then fried with oil. The cake is brittle, soft, sweet-smelling, and served with vegetable pickles and sweet and sour fish sauce for best taste.
Special food in the Centre
Banh bao xu Hue (Hue bloating fren-shaped cake)
Banh beo is a specialty and indispensable in Hue City.Banh beo is delicious with its core stuffed with small shrimps and sauce made from a mixture of fish sauce, sugar, garlic, chilly and fresh small shrimps, watery grease. Therefore, it offers customers with sweet, buttery and smelling flavors. Without delicious sauce, the cake would become worthless. When serving, it is required to use a tool called Que Cheo (bamboo folk) to pass through the cake, cut into pieces, prick and eat. Customers would be impressed forever with having Banh beo in a green garden while listening to Hue folk song coming from the Perfume River.
Bun bo gio heo (Beef and fork soft noodle soup)
Preparing Bun bo gio heo is very skillful. Pig leg is clean-shaved, chopped into even slices with adequate bone, meat and skin, mixed with lean beefs, and soaked with salt, pepper, fish sauce, dry onion and spices.
Bun bo gio heo is proper with all appetites. Even diet people could enjoy the sweet-smelling of beef with less fat of pig leg so as not to be fed up with as serving. Bun bo gio heo is delicious anytime you have it. You could enjoy this specialty of the Central region on Hue City.
Banh la cha tom (Grilled rice cake with Cray fish)
Anyone who used to experience the dish would never forget such simple cake made from grilled rice cake and Cray fish only.
The cake must be as thin as a leaf but flexible enough. Cray fish must be brittle and sweet. Serving with long jawed anchovy sauce.
Banh la cha tom does not as heavily smell as the majority of the other dishes but gentle, elegant and attractive to customers
Com hen song Huong (Perfume River mussel cooked rice)
Com hen has a sweet-smelling flavor of rice, onion, and grease, as well as strange tastes of sweet, buttery, salty, sour, bitter, and peppery-hot. You have to arrive to Hen river-islet in the Perfume River to have the original Com hen. However, you can find out the dish on some streets inHue City. It requires 15 different raw materials to prepare for the dish, including mussel, fried grease, watery grease, peanuts, white sesames, dry pancake, salted shredded meat, chilly sauce, banana flower, banana trunk, sour carambola, spice vegetables, peppermint, salad, etc.
Com hen is always attractive to many customers because it is tasty and, at the same time, economic to anybody.
Cao lau Hoi An (Hoi An vermicell)
Cao lau as a dish has its "own kingdom", therefore, customers are likely to be served with it only in Hoi An.
Cao lau noodles are carefully made from local new rice not stocked one. Water used to soak rice must be taken from wells in the Ba Le Village; noodles thus will be soft, enduring and flavored with special sweet-smelling. In addition, meat used to prepare for Cao lau must be loin or trotter.
Dry pancakes used must be thick and have much sesame. Greasy coconut quintessence and bitter green cabbage are also indispensable. The so-called genuine Cao lau Hoi An must satisfy all above requirements.
Banh trang cuon thit heo (Dry pancake roll with pork)
Coming to the Central region, you are offered with the service of Banh trang cuon thịt heo.
A big plate of fresh vegetables with a peppery-hot red chilly, a plate of boiled lean and fat meat, a bowl of fish sauce, and a plate of dry pancakes are displayed on the dining table. Customers have to serve themselves with all of the 10 substances mentioned above.
Banh trang cuon thịt heo is considered as not only a daily dish but also likely an artistic specialty of the Central citizens.
My Quang (Quang soft noodle soup)
Similar to rice noodle and chicken or pork soup (Hu tieu),My Quang is a variety of Pho (rice noodle soup), because the noodles are made from rice and soused with soup as serving. The soup sauce, which is added, comes from a mixture of flavor from beef or pork bone, shrimps, crabs, chicken and duck. The noodles are yellow, somewhat distinct from Pho. However, the main reason for having this color is to be in hannony with the colors of shrimps and crabs.
The best My Quang is made from rice in Phu Chiem, shrimp in Cho Dai and spicy vegetables in Tra Que. As a strict selection of substances to prepare, My Quang has been dominant in almost all of culinary markets in the Central provinces and expanded to Ho Chi Minh City with a high qualification of a Quang Ngai's specialty.
Special food in the South
Xoi chien phong (Bloating fried sticky rice)
A round plate of Xoi chien phong, placed next to a plate of buttery roasted chicken, is always attractive to anyone. A lump of sticky rice will become a plate of Xoi chien phong as big as a grape-fruit by talent chefs. In the past, Xoi chien phong was offered only in the Binh Duong Restaurant, Dong Nai Province. At present, you can taste the dish in star classified hotels in Ho Chi Minh City.
Lau mam (Mixed vegetable and meat hot pot)
At present, Lau mam folk dish in the past hundred years - become a luxurious specialty in the South. Chau Doc fish sauce made from fresh-water fish, a kind of sweet- smelling and greasy fish, which must be as required to have a delicious Lau mam dish.
Substances to prepare for Lau mam, including fresh food-stuffs such as snake-head fish, "keo" fish, pork, peeled shrimps, eel, beef, and so on, accompanied with at least 10 kinds of vegetable, sometime amounting to 24 kinds of vegetable. They include water-lily, egg-plant, balsam-apple, straw mushroom, bean sprouts, chilly, etc.
When boiled, the flavors of the sauce, which is mixed with citronella, chilly, vegetables, fish, shrimp and meat, are very sweet-smelling. Lau mam roam is scoop out into bowls and served with soft noodle soup, simply but deliciously.
Goi buoi (Salad of shddock)
Goi buoi is available at the majority of famous restaurants in Ho Chi Minh City. The major substances to prepare for the dish include shaddocks mixed with fresh shrimps, pork, and dry cuttle-fish. The dish is originated in Miet Buoi, Bien Hoa City.
Goi buoi dish is especially flavored with slightly sour, sweet, peppery-hot and buttery tastes. It is also added with spice vegetable, white sesames, coconut and dry cuttle-fish. Therefore, the dish will be appeared on dining table as a fresh colorful picture and attractive to customers.
Ca tai tuong chien xu ("Tai tuong" bloating fried fish)
"Tai tuong" fish is classified as a kind of luxurious food-stuffs.
The fish is as white as chicken, delicious and sweet smelling but not crushed. There are two ways to prepare for the dish: Boiled down or bloating fried.
In bloating fried way, pour plenty of oil into pan, wait for the oil to boil before placing the fish in. In boiled oil, fish scabs would be raised up as porcupine's feathers. As serving, place the fish on to the plate, arrange boiled quail eggs around with, fried potato, fresh onion and tomato slices at the edge, season with chilly.
Finally, pour soup and sprinkle fried peanuts and crashed onion on to the fish. The dish is served with sour and sweet sauce of fish. Ca tai tuong chien xu is an unique and luxurious specialty in the South.
Ca nuong trui (bare fried fish)
The Southern villagers in countryside areas usually have fried fish in the field. They use a bamboo piece to cross through the fish. Pitch the head side to ground, pile up rice straws at the wind-swept place to smoke fish.
As serving, use hand to remove the burned fish scabs. Fish will become as white as chicken. Place the hot fish on a lotus leaf, take up each piece of fish and dip it in peppery salt, squeeze with some lemon drops, roll in fig leaf or sesame young shoot to experience the dish. Bowl and chopsticks are not necessary. At home, the dish can be served with dry pancake, soft noodle soup and vegetables. Ca nuong trui is a dish that accompanies drinking. It is popular and exciting.
Ca kho to (Dry-boiled catfish)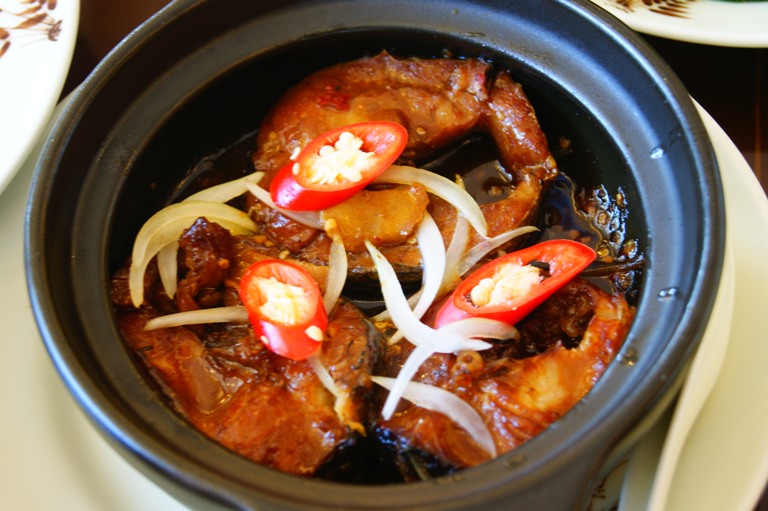 Fish, which used to prepare for the dish, can be catfish, anabas or snake-head fish. Necessary spices include dry garlic, fresh lemon, onion, chilly, sugar, glutamate, fish sauce, grease, and a spoon of pepper and wine.
Although Ca kho to is a popular dish in the South, it is also a cheap specialty. As serving, pick up fish to other bowl, boil the bowl of fish on a low fire and sprinkle some peppers to have sweet-smelling: Keep fire when serving, Ca kho to can be served with such boiled vegetables as shallot, white cabbage, spinach to dip in Ca kho to sauce. It is more convenient to serve it with pickles such as vinegary beet or green pineapple.
Cua rang muoi (Fried salted crabs)
The Westerners, especially those in land-locked countries, usually appreciate the dish as soon as they firstly experience it.
At parties, a plate of bright red Cua rang muoi is usually acted as aperitif. Customers suddenly feel sweet-smelling of spices and delicious buttery flavor of crab at the same time. Highly qualified chefs in Vung Tau coastal area usually select brackish water crabs with much meat and liver-pancreas. A delicious crab dish also depends on the soup, added to frying crabs in pans, including star aniseed, cinnamon, cardamom.
The connoisseurs immediately experience the dish as it is still very hot, mixed with some lemon drops.