1. Lang Co - the sea legendary
Known as a wild picturesque sea view, Lang Co is the ideal beach for summer vacation and wild beauty discovery!
Briefings
Lang Co is a famous beach of Thua Thien-Hue Province, best known for its ever most beautiful natural landscapes and pure sea wildness. Strategically situated inside the zone of 3 World Heritage Conservation Centers (Hue ancient citadel, Hoi An old town, and My Son holy land), Lang Co is only 30 kilometers from Da Nang, and 70 kilometers from Hue. Accordingly, this helps develop diversified types of tourism, and keeps tourists to stay there longer. Lang Co is attached to a number of beautiful names by admiring tourists, some of which are "Beautiful lady of fishing village", "Greater beauty than picture", and so forth. You will soon discover the names' derivation once you have come here.
Geographical features
At Hai Van Mount foot there appears the beautiful Lang Co beach, whose sand banks are 1.5m – 10.5m from sea level. The sand banks gradually change their height to 5.0m-23m from sea level, with total stretching line of 8 – 9 kilometers.
Climate
Typically Vietnamese, Lang Co has a monsoon tropical climate, with two main wind directions, northwest one in winter and southeast one in summer. The annual average temperature is 25.2oC. Tourists should be known that it is hottest in June and July (aprx. 41oC), and coldest in December (aprx. 8.8oC). Annually, the beach has an average rainfall of 3,368 mm.
Seaside features: All the best in one
Seen from above, Lang Co beach looks like a picture of beautiful cristine nature. As you may know, Lang Co is famous for its magnificent natural landscapes surrounded by mountains, tropical jungles, and the boundless blue sea with waves coming to the 8 or 9 - kilometer immaculate and fine sand, absorbing thousands of tourists. The picturesque sea view brought great inspiration for King Khai Dinh to write the epitaph "Royal step-over temple" and issued the decree to order the Ministry of Public Works to build a summer palace for recreation here. Lang Co beach is stretching along 1A Highway, easily found and favorable for tourists' dropping off. For those fond of sea entertainment, this is actually a good choice thanks to the sloping sea, fine and clean sand, great moderate waves. Suggested activities are swimming, diving, sailing or more simply, relaxation by lying down on beaches.
What is more, Lang Co is also popular for diversified beauty spots and delicacies. Right next to Lang co seaside is Hai Van Mount and Hai Van Quan, a famous Vietnam's sightseeing. Along the mount foot, Lang Co Sea is filled with coral, king shrimps, and numerous of values seafood. Inside the area, there lives a majestically captivating "Pearl Island" – Son Tra, where exists a series of wild species and flora. What lives behind the seaside? That is Bach Ma (White Horse) Mount and Lap An damp. The latter, with a quiet rounding road, is an ideal bicycle-riding place for those enjoying a mediative space. A number of other magnificient beauty spots, such as Bat Cave, Elephant Stream, Nhi Ho Fall, Dream Fall, etc. are extra activities for tourists to try after a busy day of joyful seaside entertainment.
Resorts
Lang Co beach resort is classified as the best by the Economic times. The resort was designed with Hue traditional garden house architecture and well-equipped with modern facilities meeting the international standard. It has 88 guest rooms, in which there are 57 deluxe villas & Suites designed in Hue traditional structure & 31 Budget rooms, 200 persons restaurants with European & Asian food & lagoon's fresh seafood, Billiards bar, Pool bar, Health Club with Gym, Outdoor Swimming Pool, Tennis, Massage-Sauna, Karaoke, Beauty salon, Beach Volley Ball, 02 Bars: Lobby & Tropical Terrace, Banquet, Meeting & Conference venues seating up to 40-300 persons with 02 private rooms, Business center with full secretarial services, Souvenir shop - Sea & Lagoon Excursion. All the best services are welcoming you, ensuring that you will soon come back at least once.Sea FestivalsThe beach annually holds a sea festival with hundreds of seaside activities, introducing its beauty to tourists elsewhere. Year by year, Lang Co festival promises to improve in terms of both contents and scale. Normally, it is an opportunity for tourists to witness an overwhelmingly magnificient and eventful atmosphere with impressive and joyful sea games. No travellers could say no to this very chance of enjoying life!
"Coming up mountain to see White Horse Hero, going down to sea to meet Lang Co – lady of beauty" is a popular saying of seasiders since Lang Co beauty is compared to a young graceful lady. With excellent sea potential, Lang Co completely deserves the brand of "Lang Co – a sea legendary". Sooner or later, Lang Co will be well-known not only for a wildly poetic beauty but attractive sea services as well.
2. Non Nuoc Beach - One of the World's Beautiful Beaches
Nuoc Beach gently slopes towards the calm, clear, blue sea; the clarity of the water attracts visitors who come to bathe and enjoy the seafood. This fine sandy beach with sunshine all the year round makes it suitable for tourism in all four seasons.
Da Nang has a coastline of 30 kilometres long, famous for many beautiful seashores stretching from the north to the south such as My Khe, Thanh Binh, Tien Sa, Son Tra and so on. Non Nuoc Beach also pertains to Da Nang Sea and has been voted as one of the most beautiful and attracting beaches of the planet, 2005, according to Forbes, the leading magazine of America. This beach has gentle slope, mild waves, and purely blue sea water during the four seasons. The unpolluted water source here has attracted a number of tourists coming to bathe, enjoy local special sea foods and take a rest for weekends. The beach Non Nước is also a place that exist precious and rare seaweeds such as gracilarias "yellow thread" and glacilaria "screw" that have high value of exporting.
With green water and white sand, Non Nuoc Beach stretches five kilometers along the shore of Hoa Hai Ward at the foot of Ngu Hanh Son (The Marble Mountains). The beach is
famous for its seaweed, which reaches exportation standards. Many five-star hotels were built in Non Nuoc to accommodate the domestic and foreign tourists in the area. Together with its feature of wave degree, climate, weather and salinity, Non Nuoc Beach is suitable for water sports, especially surfing. In 1993, there took place an international champion with the participation of nearly 40 athletes from many countries around the world.
Along the beach, on the white sand is a forest of age-old casuarinas which is shady, green and is waving in the whistling wind. This is an ideal place for resting and camping. When the darkness falls and the moon rises, you can set yourself free on smooth benches along the beach to listen to melodious sounds of the waves and enjoy the occult space.
The beach is managed by the Non Nuoc Tourism Company that has three hotels with more than 100 rooms on the beach. They provide entertainment services including photographs for souvenir, handicraft shops, massage, restaurant, tennis and some gymnastics. A chain of tourism resorts is planned to cater for international tourists including seaside hotels and restaurants, especially an international standard golf court.
Besides convalescence and bathing, tourists to Non Nuoc Beach can also combine their journeys with traveling the relic Marble Mountains, which boast some ancient pagodas and sacred monumental caves, go around fine art stone handicraft villages right at the foot of the Mountains or go boating on Co Co River (Stork Neck River) to enjoy peacefulness of the Marble Mountains.
3. My Khe Beach, a beautiful beach in Da Nang
My Khe Beach is recognised as one of the most ideal beach of Da Nang City, international tourists came here for convalescence and relaxation...
Da Nang has a coastline of 30 kilometres long, famous for many beautiful seashores stretching from the north to the south such as My Khe, Nam O, Xuan Thieu, Thanh Binh, Tien Sa, Son Tra, Bac My An, Non Nuoc. They are calm seas with green water during four seasons, not being polluted with 60% salination and high safety. With 900 meters in length, My Khe Beach is the most crowded of Da Nang beaches and popular to local people.
My Khe Beach is located about 6km east of Da Nang and about 24km north of Hoi An. It is a nine-kilometre stretch of smooth sand with an average width between 50m and 70m. The gradient is gentle, and its sheltered position in the lee of the Son Tra peninsula softens the autumn winds that restrict swimming further down the coast.
It is an ideal and huge beach with smooth sand and a slight slope. Behind the beach is a dark green poplar forest, and beside, the Kinh River carries crystal water to the sea. The beach has coral, abundant plants and creatures along bankside and under sea. Especially, the beach is next to the city centre, in roads easy to come and by various means of transport. Sea water in My Khe is cool with little wave so you can bath all year's round, especialy in summer from May to August. The lack of large waves, less than average pollution, and an annual mean temperature around 25oC, makes it a safe place to swim for adults and children alike.
The beach has hotels, pleasure-houses and various abundant services, creating favourable conditions for tourists to relax on the seashores. There are 50 well-equipped and comfortable bedrooms and lots of services in My Khe hotel. Many luxurious seaside villas with over 100 rooms are available for families. You can come here to play and rest at weekend. Around the hotel area, there is plenty of seafood restaurants and stalls, and large numbers of local vendors traverse the beach selling all kinds of foods and drinks. Coastal specialties like shrimps, crabs, fish, cuttles, etc. in hundreds of small shops are at reasonable price. They can be irritating sometimes – if they are too persistent, you should ignore the nuisance since that is the best strategy.
American soldiers occupied a part of the beach before 1975. They established some premises for their relaxation and recreations. With some enabling conditions such as being near the city's center, large space, beautiful landscapes, and qualified services (hotels, restaurants, vehicles keeping site, fresh water bathing, sunshade and buoy lease), My Khe Beach is now convenient for developing kinds of services such as fishing, water-skiing, diving, yatch race and so on.
Moreover, the safeguard teams of Da Nang seashore work from 5 a.m to 8 p.m every day to guarantee safety for visitors to bath and relax on the beach. There has been a steady increase in the number of tourists visiting the beach.
Han River suspension bridge was completed, it links the east to the west area, making transportation possible. As a result, My Khe Beach becomes an attractive resort, a really very good beach!
4. Cu lao cham, the beautiful offshore island
Cu Lao Cham is known as a beautiful island with various wild animals and legendary landscapes.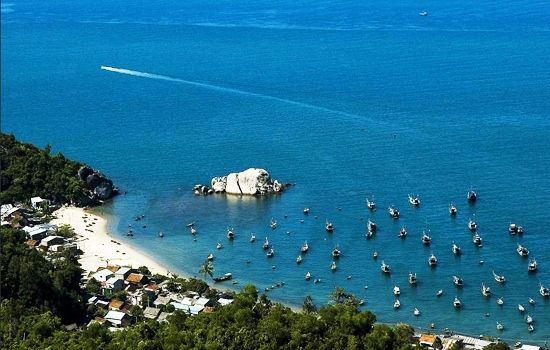 The large island consists of eight islets, 20 kilometres off the coast from Hoi An Ancient Town in Quang Nam Province. Cu Lao Cham Island has wonderful sand beaches, forested hills and the sea. With primitive landscape, the island is ideal for camping, swimming and scuba diving to enjoy the corals and beautiful marine life.
At the summer, if you reach for the island by normal boat, it takes 2 and half hour, but only 30 minutes by speed boat. There are 10 guesthouses for tourists who don't want to spend the night in a tent on the beach. Transport from the mainland to the islet is quite comfortable.
History
Cham islands are supposed to be the first place where Cham people landed, coming to Quang Nam Province from Indonesia (small monuments, dikes and basin to grow up rice on terraces are hidden in the forest, 17th century pagodas and small temples in the two villages). Therefore, being well-known since earlier Cham domination (from 4th to 14th century), the island became one of the main port of Champa Kingdom. Situated some eight miles offshore Hoi An, it was also part of Hoi An historical international trading. From 15th century till the beginning of 20th century, the old city was a meeting point for international vessels and junks.
According to archaeologists, Cu Lao Cham first settled there 3,000 years ago and established business contacts with external countries some 1,000 years ago. Up to now, Cu Lao Cham has preserved many architectural constructions which date back to the 18th and 20th century. They include the shrine dedicated to Than Yen Sao, built in 1843 at Bai Huong and Hai Tang Pagoda, built in 1753 on the western hillside of Hon Lao. Still, Cu Lao Cham has more to offer. After a three-hour canoe trip, one may hop over to the famed Well of the Cham people.
Topography
The island comprises an archipelago of one large island and seven smaller islands. The largest island - Hon Lao, covering 1,317 ha, is circle shape at the high of 500m. There are nice beaches at Bim and Ong beach. The topography of Cu Lao Cham Island is dominated by two peaks: a 517m peak in the centre of the island and a 326m peak at the western end. Natural forest here covers 532 ha of the nature reserve, equivalent to 35% of the total area, while plantation forest covers a further 30 ha.
Biodiversity values
The island is a place where shelter for value swallows birds. The natural vegetation of the islands is lowland evergreen forest that is natural with a lot of woods and rare animals.
Scientists report the occurrence of macaques Macaca sp., monitor lizards Varanus sp. and pythons Python sp. To date, 265 vascular plant species have been reported from the nature reserve. Furthermore, a species of swiftlet Collocalia sp. is reported to nest on Hon Kho within the nature reserve.
Cu Lao Cham is also home to salanganes, birds whose nests have long been considered a delicacy by aristocrats and the wealthy. The nests may cost as much as US $4,000 per kilogram. In a beautiful day, tourists are able to see cliffs where salanganes build their nests and talk with salangane-nest takers.
Around the island has a lots of color corals under the water. Situated in a salty-water area, this square-bottom well, amazingly, provides clear fresh water all year round. Enjoyable extras include white-sand, pristine beaches and captivating attractions evocatively named Bai Ong, Bai Bim, Bai Chong, Bai Bac, Suoi Tinh, Cau Mo, Suoi Ong and so on, where tourists can relax, go hunting, fishing even fishing octopuses.
Visiting Cu Lao Cham, you also have chances to view the sea swallows' nests clinging to the towering cliff. Cu Lao Cham wins kudos for its seafood and delicacies (octopuses, lobsters, fish's fin, abalone, kaki, hind, cholonia's eggs, bird's nests) and fascinating souvenirs (pearls, conches, tortoise-shells).
Moreover, you can take a tour to Lang beach for seeing some interest places as such Au Thuyen-a shelter for boats at bad weather, a 100-year Tay Tang Pagoda remarking the Puddhism that came here for long time ago, Ong temple - a place worshipping a big fish burried here.
Close to Hoi An town, Cu Lao Cham really cherishes high potential for tourism development.